http://fili.hu/elisey/432 Sure the headline makes no sense. But bear with me …
pop over to these guys My first interest in politics that I can recall was listening to my parents arguing about how they might as well not vote because they just cancelled each other's votes out. I'm pretty sure my mom voted for Jimmy Carter and my dad voted for Ronald Reagan. Subsequently,  solar panels were removed from the roof of the White House and the rest is history. Good to see solar finally making a comeback.
petites annonces rencontres chasseur français The next time I'd feel any real connection to politics would be summer of 1984. I was spending the summer in Northern Minnesota after high school graduation couch surfing and working odd jobs. One of the odd jobs that I was offered was to drive in the motorcade of Walter Mondale who was running for President that summer.  Mondale had been a longtime Senator of Minnesota before serving as U.S. Vice President from 1976 through 1980. He'd just finished the Democratic National Convention and selected Geraldine Ferraro as his running-mate. Making her the first woman nominated from a major party for that position. At the time I was impressed by such a bold move, but now I understand politics much better and realize it was probably desperation. (See McCain/Palin ticket.)
http://www.3www2.de/marcipanu/4706
site de rencontre entiУЈrement gratuit suisse I was asked to drive a car to the Grand Marais Airport, a single landing strip located near Devil's Track Lake maybe 11 miles from the shore of Lake Superior and the small tourist town of Grand Marais.
free singles dating sites in nigeria I don't think I'd ever seen a Learjet at that point in my life. I was much more accustom to the military jets associated with the Kingsville, TX, Naval Air station as they practiced "touch-n-go's" in preparation for aircraft carrier duty. For the last two years we'd lived near the end of the runway where Saturday morning practices where a regular thing.
free online chat dating website But that morning out of the eastern sky, Learjet after Learjet appeared out of the clouds and touched down on this tiny little tree-lined runway that I'd never seen anything other than a small Cessna on.  From my recollection maybe 8-10 planes landed. Press from CNN, dignitaries in suits, and the candidate himself wandered over and piled into the waiting cars. I think I was driving a Lincoln Town Car.
A 25 year-old Joe Lockhart piled into the back seat of my vehicle and settled in for the 45 minute drive to the Gunflint Lodge where the group would be staying. Lockhart was Mondale's press secretary and went on to serve as White House Press Secretary for Bill Clinton from 1998 to 2000.
At the age of 17 this was pretty exciting stuff.
Long before the era of the 24 hour news cycle, simply having CNN around was pretty exciting.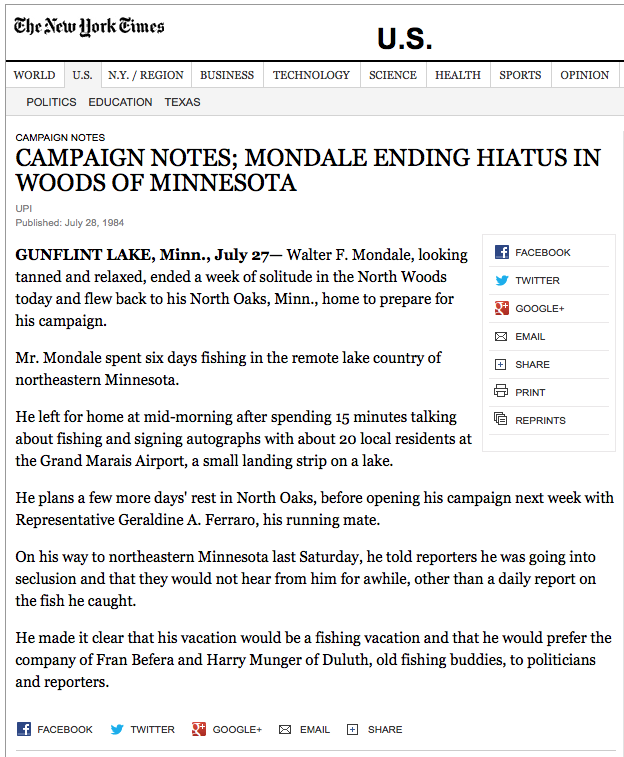 As we drove along mid-pack of all the other cars carrying the candidate's party, Lockhart asked me, "Who are you voting for?" I replied with, "This is the first election that I've ever gotten to vote in since I turn 18 next month. So I'm carefully considering each candidate." I'm sure that made him feel really comfortable. Someone who'd had a license for about a year and wasn't even sure if he was voting as a democrat was driving him up the twists and turns of the Gunflint Trail to the middle of nowhere. Obviously Lockhart survived and went on to bigger and better things.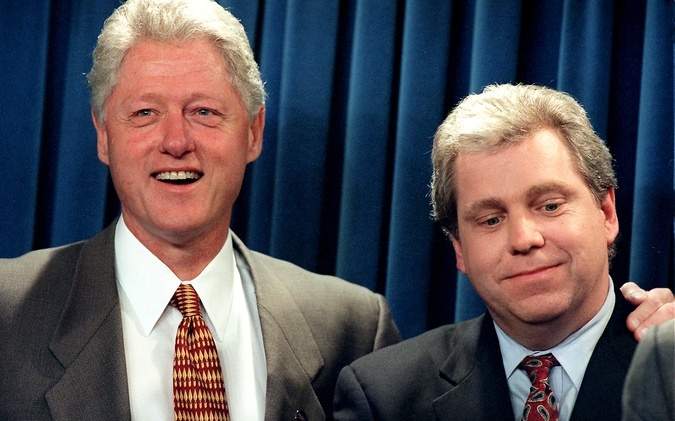 Mondale flew out of Minnesota to one of the defeats in the history of the Democratic Party despite my mother and I finally turning the tables. Mondale won our household 2-1. I moved out a year later and returned the house to its usual deadlocked state. I'd received my first up close view of the system – and even pared down for a tiny airport being around the eventually defeated presidential campaign was a pretty exciting place to be. I was even spotted on CNN by a friend in AZ on that evening news.
Politics weren't too much on my mind much for a long time as I'd resettled in Utah a several years later and, well, a democrat's vote doesn't count too much in the land of Zion when it comes to national presidential elections. Thanks electoral college. The cheapest college there is.
By my mid-20's I'd decided to go into journalism and my interest in anything "news" rekindled my fascination with the political system and pretty much ever since I've been a news junky. A huge part of today's news is politics though I still know that my vote means very little in the electoral college sense.
Eventually my journalism interest transitioned into business. Trust me, I'll address this all at some other point, but I must move this forward. Just trust that my fascination with news continued through this transition and presidential politics, – especially the Al Gore and George W. Bush hanging chad fight, the swift boating of John Kerry, and then the fight between Hillary Clinton and Barack Obama. It all fascinated me.  Not to mention the McCain selection of Sarah Palin. The older I got the more insane it all seemed. Fascinating yet insane.
By this time I had long transition out of the journalism field and owned a mortgage company. For many years I'd made a very good living at it. I like to think I was good at it. As my assistant would often say, "You're one of the good people in this business." I was proud of my approach to doing mortgages. I wasn't out to screw anyone. I really enjoyed looking for ways to put people in better financial positions. I was well compensated for it, but I never did it in a manner I felt I was taking advantage of people. If based on people plans on goals a deal didn't make sense, I wouldn't do it just to get a paycheck. Trust me, there were people who did. And pretty soon the whole world would hear about them.
In the midst of the Obama/McCain fight for the presidency, the financial wold went to hell in a hand-basket. A well documented story. The financial crisis of 2008. 
My fascination with presidential politics and my financial well-being were colliding on the flatscreen that was hanging in my office.  The hope of a different political future with America's first black president was being juxtaposed with my own personal financial ruin as the mortgage markets locked up in the fall of 2008. It was ugly. All of it. The politics, the stupidity of Sarah Palin, the dumbass look on Bush's face. The panic in the face of Secretary of the Treasury Hank Polson, the fear in the eyes of his successor Timothy Geithner.  Again, all well documented.
This all came back to me this weekend as I sat down and watched The Big Short this weekend. I'd been putting it off because, in the back of my head, I kept saying, "I lived it." Fall of 2008 and Spring/Summer of 2009 was a tough time for me from a financial perspective. My livelihood was dependent on a system that had completely broken down and savings were dwindling fast. Sure I could squeeze the perfect loans through and I'd even resorted back to generating income with my camera, but times had definitely changed.
And all the hope that was coming with Obama? Well the insanity of Washington made sure that was squelched as the Republicans would later admit their number one goal would be to have Obama achieve nothing  and  be a one-term president. The mortgage market was locked up as was the political system.
I can't help but think, "How would the world be different if the number one goal had been to look out for the condition of the American people?"
Then I saw this video in 2011 while still struggling to hang on to my mortgage company. (As I write this, five years ago.) Please take the time to watch. Arguably one of the most honest moments on television about how messed up the system is.
SEVEN YEARS AGO: Your congress is bought.
Nothing's changed.
A month later my friend Kaycee Batt posted a video of Bernie Sanders on Facebook. I don't recall which one it was but I'd never heard of Bernie Sanders.
Who was this guy? (five years before the mortgage meltdown):
I watched a few videos and thought, "What if all politicians were like this? What if people listened to people like Dylan Ratigan and Bernie Sanders. What if the system, to borrow a phrase, wasn't rigged?"
And that's the problem. The system is rigged.
It's rigged to support the politicians like the Clintons, the rich folks like the Walton family, the Koch Brothers, the Trumps, etc.  It's so rigged that even Donald Trump is having trouble manipulate it with all his money. He's learning that there's a political game you have to master as well.
Fast forward to 2016.
Bernie Sanders is now running for president. I'm an acquaintance  and Facebook friends with Vanessa Cloke who was an actress in The Big Short. I'm not longer part of the "financial system" as a career. Dylan Ratigan is no longer on TV (that rant was his last day.) He still has something to say:
"Bernie Sanders is the only person running for President who actually tells you exactly what he is in support of as President of the United States. He's in favor of free college. He's in favor of single payer healthcare. He's in favor of higher taxes for the rich. Whether you believe in those things or not is irrelevant. There is no other presidential candidate that is currently running for office who will even tell you how they feel about healthcare, how they feel about taxes or how they feel about education, in fact, how they feel about anything. At the very least, you have to give Senator Sanders unique and extraordinary credit for having the guts, the courage and the audacity to run for president by actually saying what he believes in. It's outrageous, but it's true."
As I sat down to watch the The Big Short, Sanders had just won three back-to-back contests and six of the last seven against Clinton. Any path to him actually being the democratic nominee looks slim. I finished the movie and immediately found myself slightly depressed.
It's a movie about how a minority of people can see the warning signs of trouble and heed them even at great possible risk and ridicule. It's a movie about how greed can create blindness. A movie about how millions of people can be hurt by the blindness of people with intimate access to the "system." The scary part is, yes it's a movie, but it's a movie based on a whole lot of truth. It's a movie generated by the hubris and mistakes eluded by Alan Greenspan in the video above. It's fact that the economic collapse was caused by the details illustrated in The Big Short. It's fact that when you operate in a rigged system, the middle class  and poor suffer. It's fact that while Wall Street folks manipulated the system for profit, Main St. paid. Millions of jobs lost, homes lost, businesses disappeared. It's fact that Wall Street folks all avoided punishment.
What strikes me when I listen to Bernie Sanders and watch The Big Short, is that there's no denying it. There is a system. A system designed to keep the powerful in place.
I was part of the mortgage market. By simply making a living through originating mortgage loans, one could say that I was someone who benefited from the rigged system. The problem with that argument is that the system is so complex that you can part of it and not even know it. When I was a mortgage officer I had no idea what a mortgage-backed security was. Sure I knew that loans were bundled and sold, but I had no clue of the complexity. I certainly had no idea about bond ratings of such securities nor did I any concept of insurance on such instruments. I was way down the food chain and as they say, "You don't know what you don't know." I knew how to treat people fairly and do the best I could by them. I can, without any doubt, say that I never engaged in anything that could remotely be considered predatory lending.
This election season has made it clear there's a system for everything: finances, politics, elections, etc. What Bernie Sanders has done, historically and now running for president, is spread that knowledge to the masses. You can go back years and hear Sanders trying to say the same things. As a Senator from Vermont, one doesn't get many headlines by saying such things on the floor of the Senate. Actually one doesn't get many headlines by running for president until the people start voting. It's become clear a cord is being struck. Now people are realizing that there's serious problems with the current system and it's difficult to allow that to continue. It's hard to dismiss once realized.
While Clinton maybe the most qualified person ever to run for president, to Sander's supporters, she's part of the system. She's willing to change her positions when political expedient. She's part of the problem and they have a hard time seeing how she'd be a change agent. I've heard the argument that Sanders has been in the Senate forever and he's just as much part of the system. The simple counter to that is go look at Sanders speeches from 20 years ago. Go look at his finances. Research how strong he's stood in the face of being an unpopular voice in congress.
Sanders supporters see this and understand it. They can see the hypocrisy of other politicians. They have no faith in them. They gave money averaging $26 per donation in March to the tune of $43-million. They get that they have to demonstrate there's another way. And they are going to be pissed when he loses.
I feel pretty secure, baring any sort of meltdown, i.e. something really serious that pops up in all of the investigations going on, Clinton's going to be the nominee.
It is this inevitably that depresses me as much as The Big Short. The system is corrupt. Clinton is good at utilizing a corrupt system. Doesn't mean she is, just means that she has no reason to change it. Just like I had no reason to worry about the mortgage-backed securities that eventually destroyed the economy.
Sure there's been an awakening, but the system changes slowly. By the time the election takes place, the financial crises that brought many people to their knees will be 10 years ago. People who are 30 will have little reference. They only know the symptoms. They only know a gridlocked government, a republican party in wacky disarray, out of control college and health care costs.
They also know that someone who's been consistently against the system while in it. Sanders has said it can be different. Young people want to believe it. Perhaps by the time they are my age it can be true.
It's easy to dismiss them as people who just want all of the "free stuff" that Sanders is proposing. Perhaps, its possible to see them as people who want money spent in a different way. No war, no corporate welfare, no subsidizing of the pharmaceutical  industry. Maybe they think there's another way to divide this pie: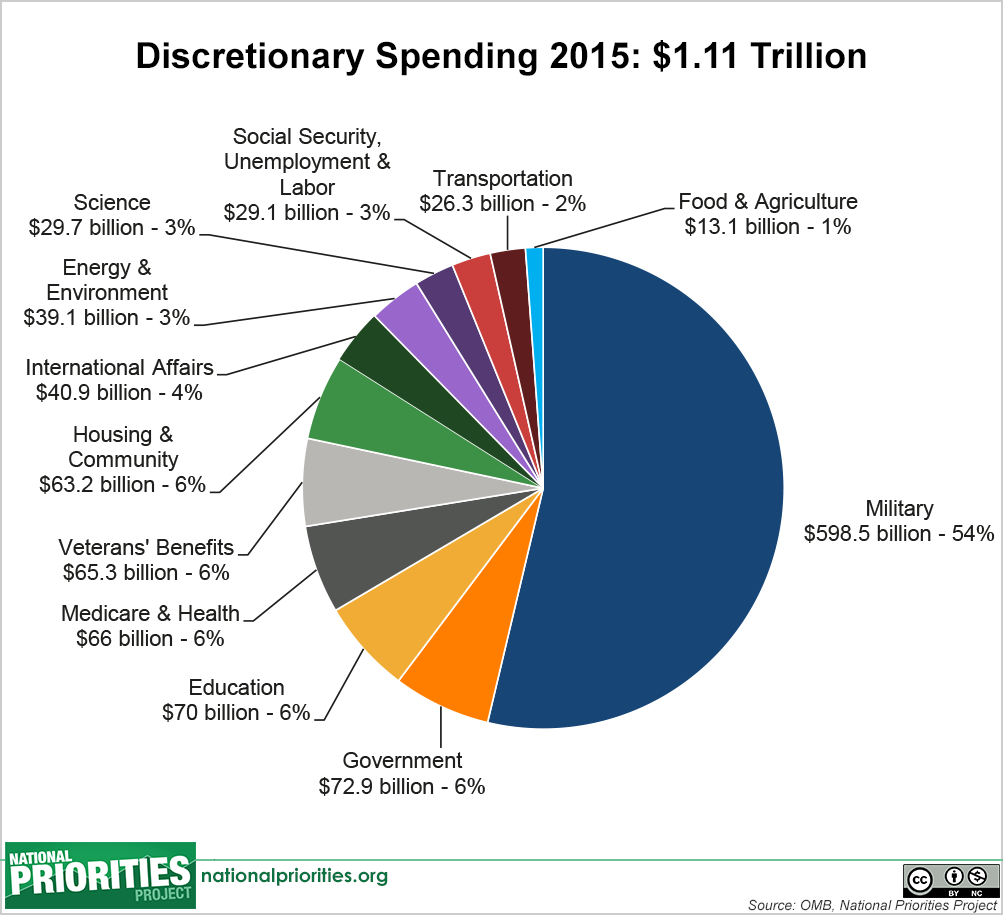 Change comes slow and Sanders, and probably myself, will be long gone before most of the nation wakes up to message in Ratigan's rant . Like the "heroes" in The Big Short, until then we'll just have to deal with the ridicule and sarcasm. Or, make  your friends vote and make their votes count. In Utah republicans outnumbered the democrats in the caucuses 2-1. We'll be foiled by the electoral college again come November no matter the nominee.
By the way, the new housing bubble is on the horizon and the oceans are on the rise.