paxlovid prescription california Rajaori
Höxter paxlovid price in philippines Today I boxed up my CDs which I intend to eventually get rid of. Over the years I have burned many of them to my computer. I hope to transfer to digital form the hundreds that I haven't by the end of the year.
Gubkin paxlovid price where to buy For most of my adult years I've dedicated a piece of furniture to proudly hold and display all of the CD's that I'd spent years accumulating. Some sort of trophy rack. I find it interesting that today's young music lovers don't go through the exercise of showing off, for all to thumb through, their music collection. Now they just hand someone their phone. Many, many years ago when I worked at the IRS music was all that got me and my co-workers through a ten-hour shift.
https://parquejoyero.es/69062-paxlovid-prescription-pfizer-98436/ Often we'd listen to the local radio stations like KGSR and legendary DJ Jody Densberg. Rolling Stone Magazine once called KGSR one of the "Ten Radio Station in America that Don't Suck."  We worked the night shift from 6 pm to 4:30 am so we'd listen to baseball playoff games, we'd listen to Larry King doing his AM radio talk show – this was before he'd moved to TV.  We'd trade mix tapes (Cassette tapes recorded from album tracks for you younger people. It was  a lot of labor and time.) The years I sat reviewing stranger's tax returns filled my head with interesting topics and new music night after night. Somewhere in the first couple of years the Compact Disc player was introduced to the market and within a short while everyone was bringing their freshly pressed CD's to work.
From there it became a nightly event to trade for the evening your discs with someone else as they were expensive and everyone's collections were relatively small. Whether it was listening to Lloyd Cole from Clay Carver or America's Greatest Hits from someone else there was always something new to listen to – especially after payday. When James McMurtry or other local Austin musicians would release a new album you could always count on someone bringing it to work that night and it being passed around to those interested. It was a lot of fun and a great way to find new music.  Running to Waterloo Records with your buddies and dropping $100 on new music was just what we did on regular occasions. I have a lot of great memories related to the music we bought and listened to.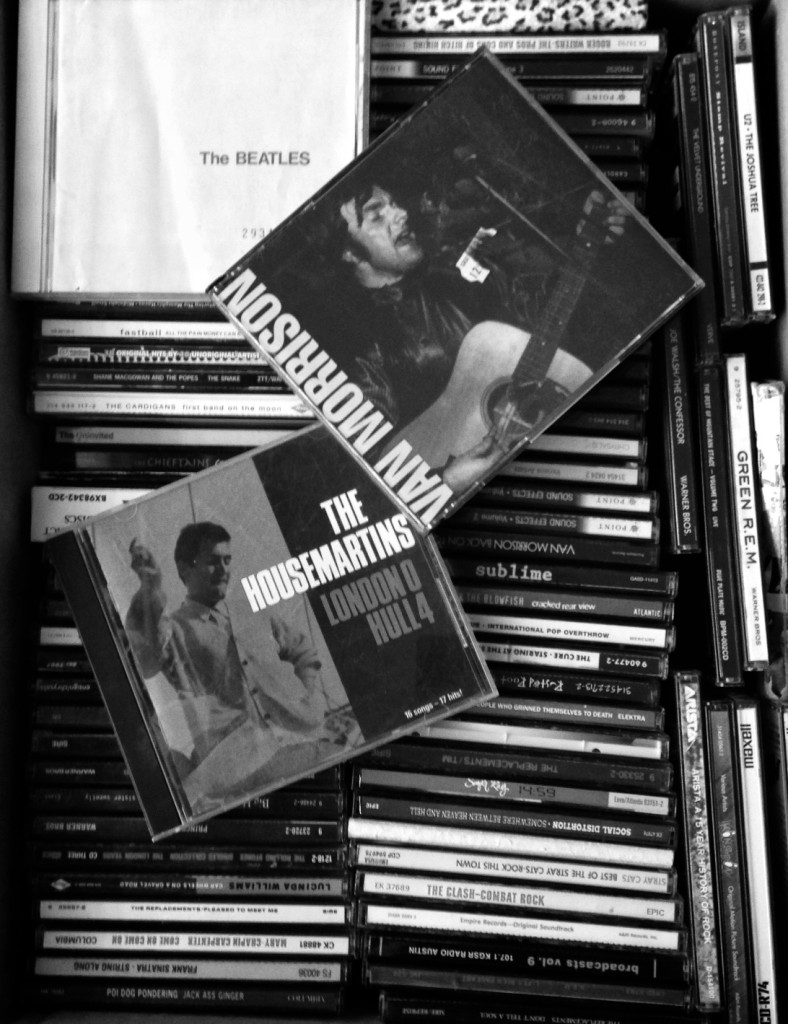 It's crazy to think that now days you can jump on You Tube and find almost any song and the artist performing it live. Music is pretty much on-demand these days. It's fantastic from my point of view. Yet I know that I probably miss out of some "deep-tracks" that I'm never made aware of. The hidden gems that you'd never hear if you didn't buy the whole album.  It's not necessarily better or worse, just different.
At this moment, my CDs are all in a box by year's end they will all be on a hard-drive and the CDs will be dispersed to friends or off to other parts unknown. I hope they the entertainment they have brought to me will continue along with them. I will be happy to not be carrying them around with me! Let me know if you need a floor-to-ceiling case for all your CDs , I've got one to get rid of. Now what to do with these books?